All Whites v Mexico Preview… Sort of.
March 3rd, 2010 | by: Craig |

View Comments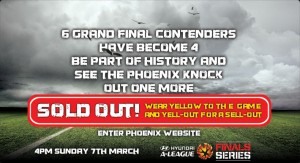 Tonight the All Whites will take on Mexico in Los Angeles, and the whole of New Zealand…
…Don't really care. As the boys run out onto the Rose-bowl this evening the entire nation will be hoping and praying that none of the Phoenix players get injured.
The result doesn't matter (which is just as well because without Ryan Nelsen you have to wonder why we bothered going anyway), all that matters is Sunday afternoon and the A-League elimination match against the Newcastle Jets.
Not since the All Whites v Bahrain World Cup Qualifier has the country been so excited about a football match. Okay, so the WCQ against Bahrain was only a few months ago, but thats not important right now.
Westpac Stadium has sold out, guaranteeing the biggest ever NZ crowd to a domestic football match – and we didn't even have to pay David Beckham to come wave this time!
So, while we wish the All Whites well, and would love a win, all we really want is Ricki Herbert and the boys back in Wellington safe and sound.
Andrea and Al will be LiveBlogging Mexico vs New Zealand on Mexico WCB.
And for you fancy folk with televisions, the match will be on Sky Sports at 5pm
——————————————–



Follow nz.worldcupblog.org on Facebook!
———————————————
Subscribe

New Zealand World Cup Team Blog RSS Feed

Share
blog comments powered by Disqus