Australia v New Zealand: Australia win by Points Decision
May 26th, 2010 | by: Craig |

View Comments
MATCH REVIEW:
ALL WHITES 1 – 2 AUSTRALIA at the MCG, Melbourne 24 May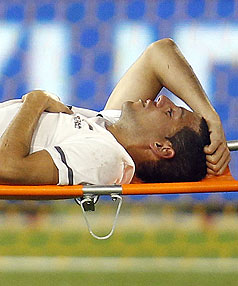 Unable to defeat the All Whites with superior footballing ability, the Australian Socceroos decided to try and beat the New Zealanders into submission.
The All Whites started the stronger of the two teams, Chris Killen scoring the first goal in the 16th minute, and nearly doubled that soon after only to hit the post.
Down one nil the Aussies were getting frustrated that their poor cousins from over Tasman, whom they cast aside as inferior competition in their rush to sell their souls to the AFC, would dare to try show them up at their own farewell party at the spiritual home of Australian Sport (The MCG).
Cue Vince Grella and Tim Cahill. Both players made callous, cynical tackles on Phoenix superstar Leo Bertos within minutes of each other. Both were given yellow cards by American referee Ricardo Salazar who later conceded that if the match had not been a friendly both players would have been sent off.
Bertos was carted off in a stretcher but was later found to have no lasting injury and should be right for the next match against Serbia in Austria on Saturday Morning NZT.
Not so lucky was Vice-Captain Tim Brown who fractured his humerus (which is not all that funny) in a challenge with Socceroos' midfielder… wait for it… take a guess… Vince Grella. Brown will undergo surgery on Thursday in a desperate bid to be ready for the World Cup.

So the Aussies scored a goal in the second half and another in injury time and crowd of 55,000+ politely clapped and shuffled off home. All the while the immortal words of former NZ Prime Minister Sir Robert Muldoon ringing in the ears of the Kiwi fans…
"It was an act of cowardice and I consider it appropriate that the Australian team were wearing yellow."
The All Whites looked a bit rusty throughout the match, but did enough to give New Zealand fans hope that they may be a bit more of a handful than the world expects by the time they get to South Africa
To stay up-to-date with all the latest All Whites news, follow us on Twitter.
If you are Australian feel free to apologise on behalf of your countrymen on our Facebook Wall.
If you are an All Whites fan, Join the Boys in South Africa! – you could even go to a few of the Australian games and cheer their opposition!
The All Whites next freindly matches are:
May 29th vs Serbia (In Austria)
June 4th vs Slovakia (In Slovakia)
June 9th vs Chile (In South Africa)
Subscribe

New Zealand World Cup Team Blog RSS Feed

Share
blog comments powered by Disqus