World Cup Draw Gives All Whites an Easy Path
December 6th, 2009 | by: Craig |

View Comments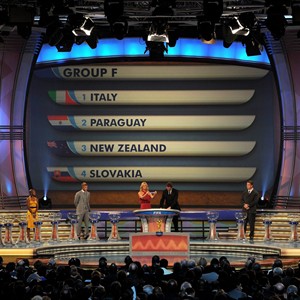 Okay, so maybe the title is a little bit of an over statement, but lets face facts – it could have been a heck of a lot worse.
The Kiwis have been drawn in Group F, along with Paraguay, Slovakia and reigning world cup champions Italy.
Not surprisingly, nobody rates New Zealand a chance of even scoring a draw in any of it's matches. But then, few gave the Oceania Champions much hope of beating Bahrain and making the World Cup, so who cares what 'experts', 'former players', or 'qualified sports journalists' think anyway!?
The Kiwis should certainly consider themselves a chance of getting either a win or a draw against both Paraguay and Slovakia and if they could keep the score close against Italy then they definately have a chance of exceeding everyones expectations and making the second round.
The great thing about sport is that sometimes the underdog gets up and wins, sometimes the rank outsider punches above his weight, as Italian coach Marcello Lippi said:
"None of the teams are easy. We will have to study them all very closely. In my opinion, there is no such thing as an easy or hard group… New Zealand is definitely not a lucky draw."
But then, he was hardly going to say:
"Woohoo! We got the Kiwis, next round here we come! Oh praise the lord, this is better than I could have imagined, I would have been content with just Slovakia and Paraguay, but to get NZ as well, Christmas has come early to Italy!"
——————————————–



Follow nz.worldcupblog.org on Facebook!
———————————————
Subscribe

New Zealand World Cup Team Blog RSS Feed

Share
blog comments powered by Disqus